All items, products, services or additional information providers are provided within this page and are recommended by Michael of SemiTruckDriver.com .  These are recommended based on actual use, ease of use, and overall if I find to be satisfying enough to be recommended to anyone..
Keep in mind that we may receive commissions when you click our links and make purchases. However, this does not impact our reviews and comparisons. We try our best to keep things fair and balanced, in order to help you make the best choice for you.
This page contains affiliate links to products. We may receive a commission for purchases made through these links.
Must-Have Trucking Products & Items
CB Radio. Every Semi Truck Driver in my opinion must have a CB Radio. It's great for talking to other truck drivers, and it can help you in emergency situations. This is also a great tool to use for being advised of any dangers that may be further up the road.
For myself, I've always used a Connex 3300 HP, here's the link to the current pricing on Amazon. Keep in mind, if you want to use this radio for Truck driving, you'll need to have it converted by a CB Repair Shop over to a 11 meter Amateur Radio from the 10 Meter setting that they come as out of the box new.
There are others that I have used as well, that I would also consider recommending, like a Cobra 19 (which is somewhat hard to find these days.) To be honest, these two brands and models of CB Radio's are the only ones I've used and liked.
Having a storage area for our perishable foods while driving down the roadway is very important as well. Since if we are able to keep these items in a temperature controlled area, overall it will help us save money on food, drinks and things of this nature.
This TruckFridge TF65 is the grand daddy in my opinion of refrigerator's that can fit nicely inside of a Semi Truck. You can find the here's the link to the current pricing on Amazon. With having the ability to keep cold items cold, even a freezer, this is very similar to what you would find in your home. Except, it's smaller, and fits in your semi truck.
Double check and compare the specs on this truck fridge with the space available for this within your semi truck. To ensure the measurements of both are going to be compatible.
Keeping our hands clean while fueling, opening trailer doors, pulling levers or turning landing gear legs usually leaves us with some really dirty hands.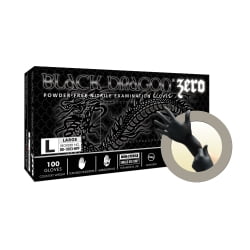 With these Black Dragon Zero PF Nitrile Exam gloves found at walley world, click here for current pricing, keeping our hands clean is pretty easy.  Especially when having to grab air lines and electrical lines that sometimes, somehow find a way to collect 5th wheel grease. These also come in a few other sizes as well. This is just the size that I use.